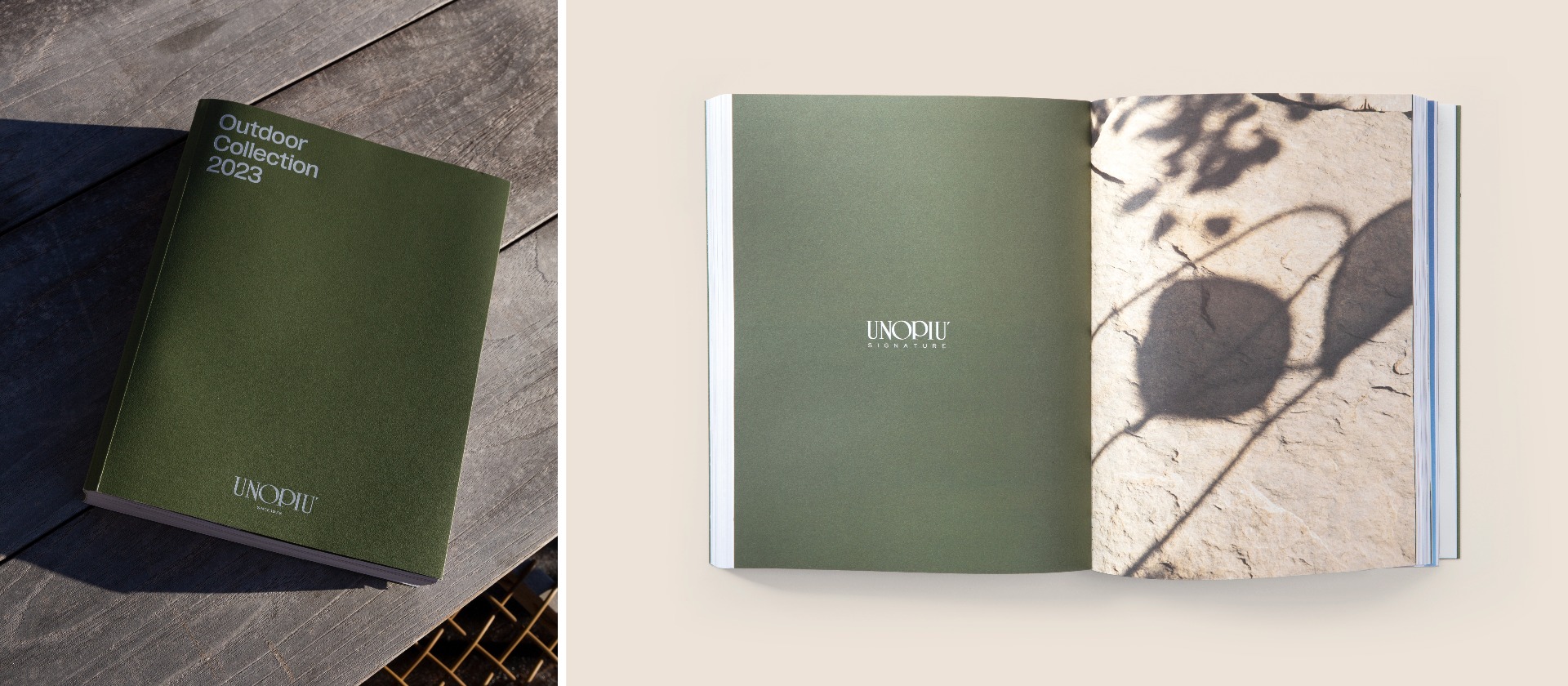 Download the Unopiù 2023 Catalogue
Discover the new 2023 catalogue to furnish your outdoor spaces with versatile, elegant and functional solutions, designed to stand the test of time and adapting harmoniously to the environment.
In the new catalogue this year, in addition to the Masterline collections, you will also find the Signature collections. Unopiù Signature was created as a manifesto for the future and interprets the vision of the outdoors style through the eyes of designers who, inspired by tradition, have translated the company's values by creating/signing new design solutions and products that tell of Unopiù's quality and unique style.
Unopiù was founded on a desire to conceive the outdoors as an additional space that can be furnished and nowadays represents one of the most significant reference points in the outdoor world, seen as somewhere to spend time in tune with nature, which gives those who live there a feeling of comfort, well-being and freedom.
Each new collection is rooted in the decades-old tradition of the company, reinterpreting it through elegant, contemporary forms. Functionality combines with recognisable, discreet aesthetics, capable of harmoniously integrating with the natural environment, respecting its identity.
Since the beginning, Unopiù has offered its customers the opportunity to furnish their outdoor environments with simplicity and versatility. The furniture in each collection respects the identity of the landscape it inhabits, be it an urban balcony, the garden of a villa or a terrace overlooking the sea. Unopiù offers tailor-made solutions capable of combining with the surrounding nature, ensuring a pleasant feeling of well-being.
We research and carefully select materials capable of withstanding the most extreme atmospheric agents. Quality and functionality translate into simple and elegant forms that are capable of lasting over time.
The quality of the raw materials has always been the solid basis of the company's production and innovation process. We only select teak from certified plantations, we look for the most sustainable raw materials and we continue to make responsible choices that respect the nature we furnish and the future of our community.
Unopiù's outdoor furniture is designed to withstand the elements and last.
Tables, sofas, deckchairs and accessories designed to create the perfect ambience, whether in a garden, a terrace, or a balcony in the city centre. Furnishing your outdoor area with garden furniture is an ideal choice for enjoying your outdoor space during the warm season.
Fill in the form to receive a 10% discount* on your first order
*Online, at our showrooms.