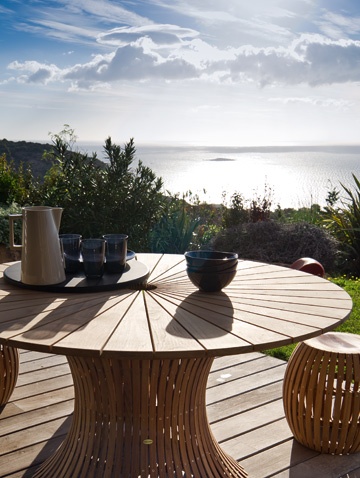 A symbol of sharing and conviviality, a place for a talk and reflection, the table is a key element in every living environment and, when everyday life and celebration of anniversaries move outdoors, the garden table becomes the core of family intimacy and outdoor hospitality. Thanks to its wide range of outdoor furnishing solutions, Unopiù gives enough space to outdoor tables and coffee tables, the first ideal for a carefree lunch or dinner in the open air and the second for a relaxed conversation or reading.

The garden tables are made from a careful selection of materials, variously matched, and a combination of original shapes and quality design able to meet the most diverse style requirements, from classic to contemporary. Some of them are part of the Unopiù furnishing lines; they reflect their own style and are therefore compatible with the other elements present in each collection, such as chairs, armchairs and small armchairs in order to create a uniform and essential environment.
Like the large and sober coffee tables of the modular AGORA' collection, available in white or tropical brown, whose aluminium structure supports the handwoven WaProLace synthetic fibre outer covering.
Instead, the MILTON outdoor tables and coffee tables, available in various shapes and in two extending versions, rectangular or oval, both coming with practical retractable extensions that make the garden tables very functional for outdoor evenings with few guests or for a summer dinner with many guests.
The folding outdoor tables of the FOLDY collection, which also includes folding garden chairs, with its essential and modern structure in galvanized iron of different colours. Finally, the TOSCANA iron tables that come in different shapes, rectangular or round, the latter designed to accommodate an umbrella.
To complete this collection, there are also two rectangular extendable tables. Garden tables available in multiple versions can be freely combined with the garden chairs and armchairs proposed by Unopiù, giving free rein to imagination and creativity.