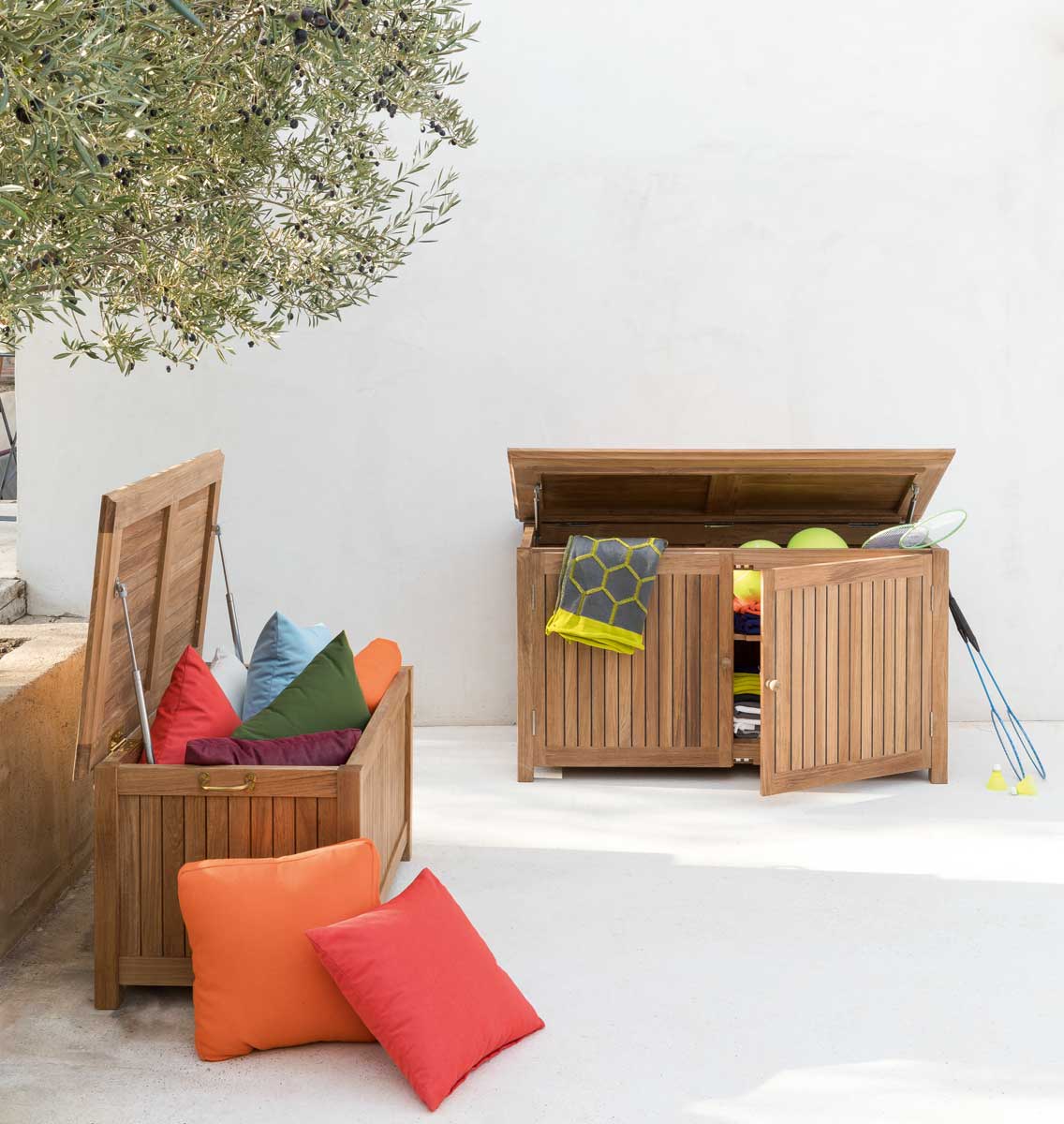 A garden or a terrace is the palette to paint a living area of charm and if outdoor furniture stars in this scene, garden accessories become the final brushstroke to the masterpiece.
Unopiù offers a vast selection of accessories to enhance outdoor areas, making outdoor furnishings even more comfortable and special. So not simply furnishing accessories, but veritable style elements that combine design, elegance and practicality.
Order and style with outdoor and garden accessories
Unopiù containers and outdoor cupboards can be gracefully included within the most renowned collections of outdoor furnishings. For example Aurora and Milton lounges can be completed with furnishing containers designed to store matching cushions and many other accessories.
Like the line to which it belongs, the Aurora cupboard was inspired by Umbro-Tuscan rural traditions of the late nineteenth century. Made in graphite coloured powder coated galvanized iron and polycarbonate panels, the Aurora cupboard has three practical shelves and magnet closing doors where, for example, plates and table accessories of Unopiù collections may be stored .
The Milton trunk, in warm resistant teak in vibrant shades, thanks also to its waterproof lid, withstands any weather conditions and can happily be placed in the open, even under a torrid sun or gentle rain.
Outdoor furnishings: reaxation and elegance
A swimming pool sparkling in the sunlight, a comfy chaise longue like the teak ones of the Milton line, a gentle refreshing breeze…. can one better what is already a masterpiece? The answer is yes!
The Unopiù solar shower is one of the most original examples: a duckboard in okum wood and a polyethylene structure combine with the technology of a practical mixer and collector, positionable near the shower or on the roof, with water heated by the sun's rays. Modern aesthetics combine with the robustness of materials resistant to impact and limescale, that require no maintenance. So after an afternoon in the pool there's nothing better than a refreshing shower!
Outdoor heaters. The sun also by night
Hotty line products accumulate the sun's rays during the day and give them back at the opportune moment in the form of light, and aboveall heat.
Besides the solar shower collector, lamps are also available from the same collection. The aluminium structure is light and elegant and thanks to high energy efficiency these outdoor electric heaters can illluminate and heat even on the coolest evenings. Thanks to a practical remote control, the lights can be oriented to regulate the direction of the heat. In this way Summer can last all year: suffice to take shelter under a pergola to keep the chill of the last days of summer at bay. With Hotty you can enjoy your outdoor furnishings at any temperature.